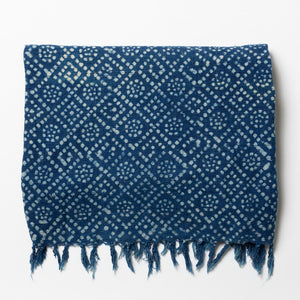 blackhouse
Diamond Indigo Throw
1277
Regular price
$70.00
$0.00
Unit price
per
Blue and pale cream mix it up. Throng brings a casual vibe to living. Bold stripes of dusty blue and pale cream border a field of interwoven acrylic threads, with a generous fringe on the other two edges. The lusciously soft and delightfully fluffy is lightweight yet warm. Our Khadi Throws are cool in summer and warm in winter. Drape this textured over a neutral sofa for a pop of color, or layer it on a bed awash in blue hues. Use them on the couch; snuggle under them outside or after a swim, or on the bed as a throw, endless options.

Features:
* High-Quality Material
* Handcrafted by Talented Artisans
* Indoor Use Only
* Suitable for: Residential Use Only
* Made In India
* Finish: Indigo + Block printed textured
* Material: Khadi

Care & Instructions:-
* Avoid using water for cleaning.
* Do not use abrasive cleaner.
* Avoid chemical contact with the furniture as it harms the natural finish & further durability.
* Avoid direct sunlight.
* Vacuum regularly.
* Do not rub the stain
* If the thread comes out do not pull the yarn; trim with a scissor.
* Periodic professional cleaning recommended.
---