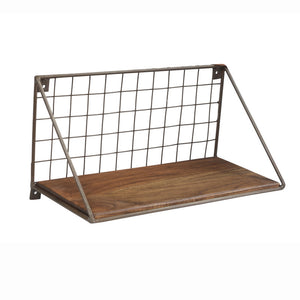 Finish: Natural
Material: Iron + Teak Wood
Product Height(in): 8
Product Width(in): 15
Product Length/Depth(in): 7
Product Weight(lbs): 4
Assembly Required: No
blackhouse
Kinsey Shelf
1305
Regular price
$98.00
$0.00
Unit price
per
Quantity Available: 45
Wondering how best to organize your things? here you will find the best option for that. A single shelf or several that fit into your room can open up a world of possibilities. You might show off a collection in an unexpected way and create an office, library, bookshelf, or kitchen space out of a cranny. Or install compact furnishings in a cramped room. Constitute a very good furniture option for you in decorating your home. Have some fun with your walls and solve storage or display issues at the same time. These stylish iron metal grid wall hanging Kinsey Shelf are perfect for gaining extra storage space for a multitude of things from books to bathroom sundries. A lovely wooden shelf graces the ironwork giving a modern industrial feel to your walls and surfaces.
Features:
* High-Quality Material
* Handcrafted by talented artisans
* Indoor Use Only
* Suitable for: Residential Use Only
* Made In India
* Finish: Natural
* Material: Iron + Teak Wood

Care Instructions:
* Wipe off the dirt from the furniture with a soft dry cotton cloth.
* Avoid using water for cleaning.
* Do not use an abrasive cleaner.
* Avoid chemical contact with the furniture as it harms the natural finish & further durability.
* Avoid direct sunlight.
---
Share this Product
---